During the Summer of 2014, I launched my blog "Petite Fashion Monster" as a place to showcase my photography and write personal blog posts.  At the time, I was in college studying Graphic Design, and I was looking for an outlet to channel my creativity.
I love my career path—believe me, I really do. However, while I was in school, it was very corporate and wasn't enjoyable for me. My teachers would always remind me that my work was too girly, and that it wasn't good enough. They told me I would never find a job as a graphic designer. So, I decided to start blogging as a way to show my feminine and creative side.
One day, I discovered lookbook.nu and fell in love with all kinds of different fashion bloggers. So, I decided to become one! Shortly after, Petite Fashion Monster was born. I am forever grateful for all the opportunities it has given me and the wonderful people I have met through having my blog.
For 5 years now, Petite Fashion Monster has been my pride and joy. However, I've come to the realization that I'm more than a fashion blogger–I'm also a graphic designer that loves social media and helping other people. After giving this some thought, I decided it was time to move on and become something better and bigger.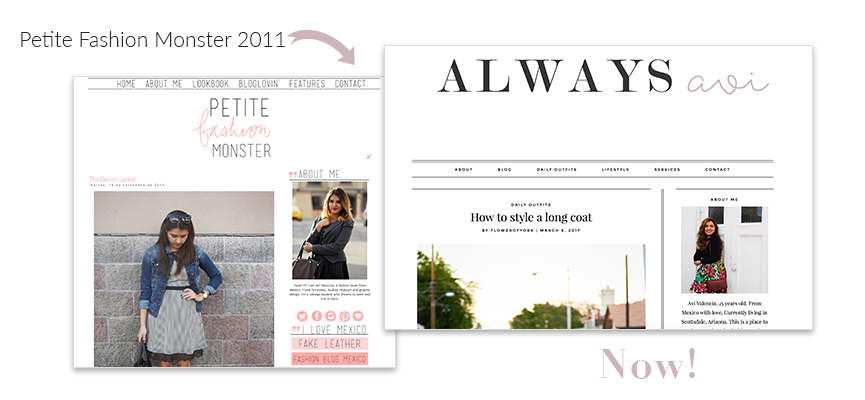 Starting now, Petite Fashion Monster is becoming Always Avi. If I'm honest, since college and transitioning into my adult life, I've always be me. I've stayed true to my feminine side and now I work for the coolest company in the world: Bloguettes. We're a group of young, passionate women who help others through social media, graphics, and workshops to become entrepreneurs.  
With all of this being said, let me present you, Always Avi! This is the place where I will be posting my love for fashion as always, but also my love for graphic design. My outfit posts will be still here, but I will also be venturing out and trying new things, such as giving you social media tips as well sharing my top 5 songs of the month.
I've also decided to expand and share my love for graphic design with others! If you're a blogger or #girlboss who needs help with graphics for your blog, social media, or business, I'm your girl! Let me help you grow your brand with amazing graphics. If you're interested, you can go to my "Services" page to see how I can help you. Or, as always, feel free to shoot me an email!
Thank you so much for your love and support over the last 5 years. I'm excited to see what this new chapter holds!


---
En el verano de 2014 lancé por primera vez mi blog 'Petite Fashion Monster'', el objetivo inicial era tener un espacio para subir fotografías y escribir posts personales. En ese momento me encontraba estudiando Diseño gráfico en la Universidad.
Amo mi carrera, se los juro me encanta! Sin embargo cuando estaba en la escuela era demasiado formal y no lo disfrutaba tanto. Mis maestros me regañaban todo el tiempo porque mi trabajo era demasiado ''girly'' y me decían que si seguía con ese estilo jamás encontraría trabajo de diseñador gráfico. Es por eso que decidí seguir con mi blog como una manera de mostrar mi lado creativo y femenino que me limitaban en la escuela.
Un día navegando por internet descubrí la página lookbook.nu y me enamore de todos los diferentes tipos de fashion bloggers que aparecían en ella. Fue en ese momento cuando decidí convertirme en una de ellos! A los pocos días nació Petite Fashion Monster. Siempre estaré agradecida por todas las oportunidades que el blog me ha brindado y en especial por la gente maravillosa que he conocido gracias a mi blog.
En los últimos 5 años Petite Fashion Monster ha sido mi orgullo y felicidad. Sin embargo, con el tiempo me di cuenta que soy mucho más que una fashion blogger, soy también una diseñadora gráfica que ama las redes sociales y ayudar a personas. Después de pensarlo por un tiempo decidí que era tiempo de expandirme un poco más y crear algo mejor y más grande.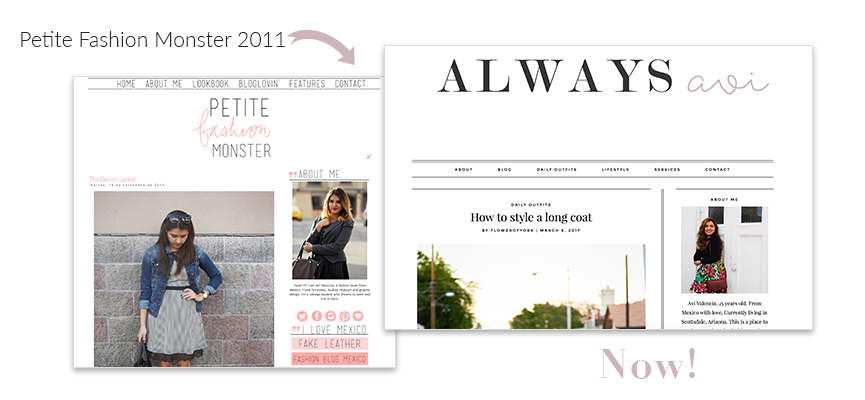 A partir de este momento, Petite Fashion Monster se convertirá en 'Always Avi'. Siendo sincera durante todo este tiempo desde la Universidad hasta hoy que soy una adulta siempre he sido yo misma. Me he mantenido completamente fiel a mi lado femenino y actualmente trabajo para la mejor compañía del mundo: Bloguettes. En esta empresa somos un grupo de mujeres jóvenes que ayudamos a guiar a otras bloggers y empresas pequeñas.
Habiendo dicho todo esto permítanme presentarles 'Always Avi'! Este es el espacio en el cual seguiré escribiendo posts sobre moda, redes sociales y diseño gráfico. Mis posts de outfits seguirán estando aquí y además de eso estaré aventurándome en nuevas áreas como darles tips sobre redes sociales así como compartir mi top 5 de canciones cada mes.
Si eres blogger o una #girlboss que necesita ayuda con gráficos para tu blog, redes sociales o negocio yo soy la persona que estás buscando! Permíteme ayudarte a crecer tu marca con increíbles diseños. Si estas interesada puedes dirigirte al link de ''Services'' para ver de qué manera te puedo ayudar.
Por ultimo muchísimas gracias por todo su apoyo y cariño durante los últimos 5 años. Estoy bastante emocionada en descubrir lo que este nuevo capítulo del blog tiene para mí!