It's been 2 weeks since I came back from my trip to Finland. Life has been a rollercoaster between getting over the jetlag, looking for new job (and yes, I found one!), moving to a new apartment,  getting a lot of new design clients, meetings, and catching up with friends and family. I've hardly touched my laptop to edit any pictures or work on this post. But here I am! Here's the first post from my Finland trip.
Helsinki is a hidden city. Not a lot of people think of Finland when it comes to vacations. So, I want to help you discover the beauty of this Scandinavian city.
But first…coffee.
I'm a coffee lover. I didn't go to many restaurants to make a list, but ask me about coffee shops, and I can name the best one in every neighborhood.

Birgitta
This is the perfect summer coffee shop just right on the water. You can sit down inside and out, but a tip, but my advice is to opt for a nice table outside. Then, order your coffee and a pastry. Try their peanut butter cake and share it with someone, because it's SUPER SWEET and you will get diabetes…but it's WORTH IT! Also, I recommend biking to Birgitta. There's a lot of bike parking and the area is so nice. You can bike the whole shore when the weather is nice and sunny. You can also walk a few blocks and go to Loyly to try their famous saunas.
Engel
I went to Engel on my second day in Helsinki. It's right in the center of Helsinki, just in front of the famous White Cathedral. Basically, it's the perfect spot for any tourist.  They even have a outdoor cinema in their courtyard. They play a movie every night from the end of June to the end of September, and they provide blankets in case you're cold. You can go to their website to learn more about the events they host.
 

Regatta
This is the cutest and smallest coffesehop I have ever seen in my life. I went there because my favorite band, Bastille, went there when they played in Helsinki. Regatta is open EVERY DAY OF THE YEAR. So, you don't have any excuse not to go. If you're there and want to have a very Finnish pastry, order their cinnamon buns. It's less of 5 euros and it's so delicious and very Finnish.

Kolo
This is the hippiest coffeeshop in the whole world. This coffee shop is located in the Kallio, the new trendy and hipster neighborhood. This vegan coffeeshop has art, clothing, and furniture. Everyone is so chill–it really is the coffeeshop for every hipster and hippie. I remembered when I passed in front of it, the owner was there and said hi to me. You can just feel the good vibes from him.

Savy
Another coffee shop located in Kallio is Savy. I went like 3 times, and it was closed. I'm still sad about it, because I read it's one of locals' favorite and is bringing Helsinki's coffee a lot of attention.  Let's hope it's open next time I go, because I really want to try their coffee.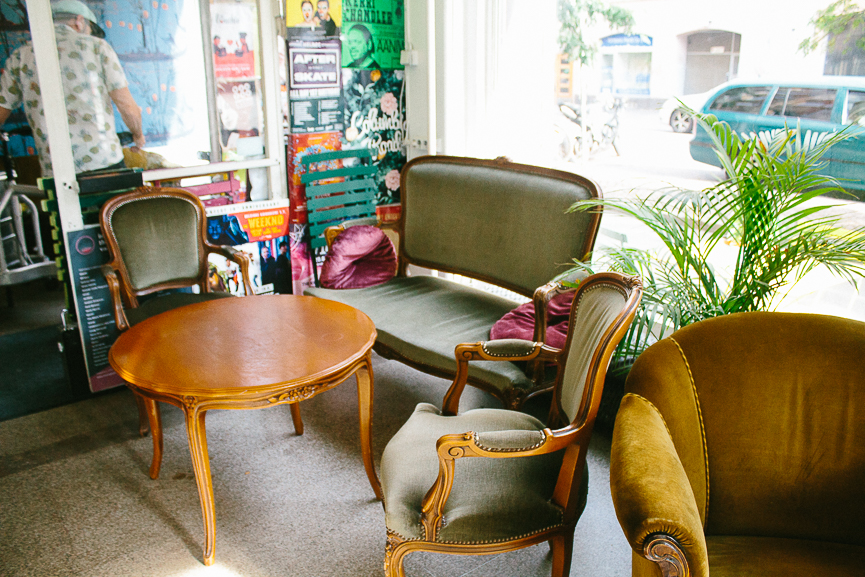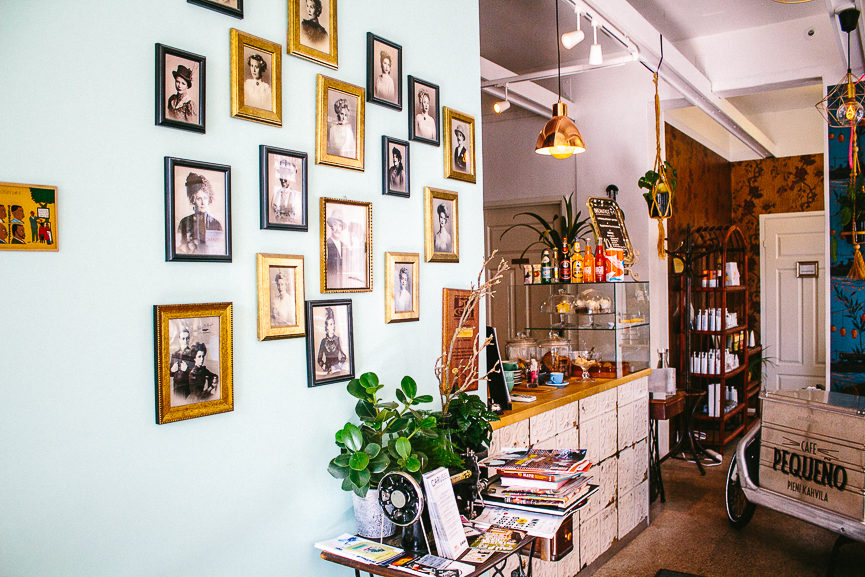 Café Pequeño
This coffee shop is located also in Kallio. To be honest, if you want to find a lot of different kinds of coffee shops, go to Kallio. It's no longer scary and where the homeless liv. Now, it's getting a lot of life with new restaurants and coffee shops. But, let's focus on Café Pequeño.
Café Pequeño is a barber shop and coffee shop. The owners are a couple. The wife is Finnish and the husband is Argentina/Spanish, and have the cutest kid. Not only did I notice the Spanish name of the coffee shop, but when I went inside the owner was speaking Spanish with his boy and it melted my Mexican heart.  The coffee shop also has a delicious menu–you should try their empanadas. They were delicious!  Also, the decor is so hipster and Instagrammable!.
Here are some other coffee shops that are popular in Helsinki but I didn't go because of time…
Brooklyn Cafe & Barkery
Espresso Edge
Factory St. Gallery
GoodLife Coffee
Hello Darling
KaffeeCentralen ( They said it's the best in town )
La Torrefazione
Well, that's all for my favorite coffee shops in Finland. I hope this post helps you if one day you go to Helsinki. Tell me which coffee shops you would like the most in the comments below!